Prayer often becomes a real stumbling block for us as Christians, though it really needn't be. I can't tell you how many times I've heard people, young and old, tell me that they don't want to pray aloud in front of a group because they don't think they're "good at it," and I can't help but think this insecurity inhibits the private prayer lives of many of us, as well.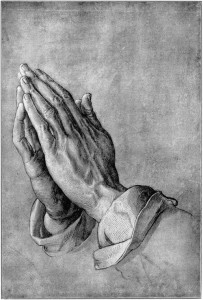 Listening to the sophisticated and sometimes even esoteric prayers we often hear in church, it's easy to get the idea that we need to be a poet versed in Old English in order to properly lift our prayers to God. But, just as we would if we were talking to a parent, sibling, or our best friend, we can simply be straightforward and eschew pretenses before the throne of God; we need only be ourselves (He sees us as we are, regardless). Jesus is our priest and intercessor (Hebrews 7:23-25), and those of us who know him—the Son—know God the Father in an intimate way through him (Luke 10:22, John 14:9, 1 John 2:23).
Sometimes, I just go to the Lord in prayer with a chaotic mass of thoughts and rely on Him to sort it out. Scripture says the Spirit intercedes for us even when we don't have the words to say:
In the same way, the Spirit helps us in our weakness. We do not know what we ought to pray for, but the Spirit himself intercedes for us through wordless groans. And he who searches our hearts knows the mind of the Spirit, because the Spirit intercedes for God's people in accordance with the will of God. (Romans 8:26-27, NIV)
In fact, if we feel like there needs to be some kind of refinement in the way we pray, we disregard the personal relationship with God which we are afforded in the person of Jesus Christ, and we risk convincing ourselves that some of us are better equipped to approach the Throne than others. We also put ourselves in jeopardy of becoming vainglorious, thinking that the ostensible elegance of our words—if we think we can muster such a thing in the presence of the Lord of all Creation—is somehow convincing God to work in the world or in our lives, and that the words we speak are more important than the outpouring of our hearts.
God entered our world in the form of Jesus Christ, fully human, that He might cultivate a profoundly personal relationship with each of us who place our faith in him. Let us not take for granted the depths of this sacrifice, nor the great privilege we have because of it. Our God is not one who is distant, but a priest and advocate who seeks nothing more than that we be near to Him.
Therefore, since we have a great high priest who has ascended into heaven, Jesus the Son of God, let us hold firmly to the faith we profess. For we do not have a high priest who is unable to empathize with our weaknesses, but we have one who has been tempted in every way, just as we are—yet he did not sin. Let us then approach God's throne of grace with confidence, so that we may receive mercy and find grace to help us in our time of need. (Hebrews 4:14-16, emphasis added)
May we come to truly understand and genuinely appreciate the fullness of that confidence which Paul exhorts us to embrace.