Something that I've been considering a lot lately is my understanding of sanctification and salvation through Jesus Christ. Dave Dorr, pastor of Passage Church recently wrote a short but insightful article regarding the difference between us accepting Christ and Christ accepting us.  In "The Gap Between Us Accepting Christ and Christ Accepting Us", Dorr writes:
Commitment is a result of salvation. Devotion to Christ flows from belief, not from volition. It is an act of heart, not will. Is it no wonder then, so many question their salvation? They question because they think their justification with God is based on commitment, and when their commitment wanes, they sense they might not really be a Christian. They are counting on their commitment to save them, not Jesus… Do not put your hope in the fact that you have accepted Christ. Hope in the fact that Christ has accepted you.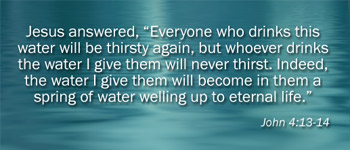 I think many of us struggle with this. It is so hard—for me, at least—to understand and accept a God who does all of the work for us. We're taught that we have to work for what we want; we have to earn it. But Jesus Christ has accomplished all of the work necessary for us to have eternal life. We mustn't fall into the trap of trying to earn or salvation, or thinking that we can somehow do something to lose it.
To be sure, our commitment to Jesus Christ is vitally important and should certainly be something with which we're concerned. However, when we go through dark periods of doubt, or selfish periods when we neglect our relationship with Jesus, or hectic times when we don't spend as much time in prayer and in the Word as we should, we are not in danger of losing Christ's love for us. We are, though, missing a chance to live as fulfilled a life as possible, being near to—and abiding in—our Savior, and letting him nourish us with his living water. So, our commitment to Christ is important; but when it comes to our salvation, what matters more is his commitment to us.