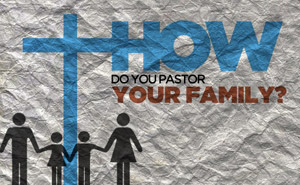 This weekend, The Resurgence posted a recap of their Top 6 posts of 2010, and I deemed one to be especially worth sharing: Justin Hyde's "How I Pastor My Family".  Hyde, lead pastor of Christ Church in Brenham, Texas, lists ten guidelines for being a pastor to his family, which he accurately describes as "the most important part of [his] vocation."
As I prepare to enter into a career in ministry, I've thought and prayed quite a bit for the discipline and wisdom to make sure that I follow the Biblical imperative to be able to "manage [my] own family well" (1 Tim. 3:4-5), which I interpret to include being a teacher and spiritual leader, as well as a source of support, leadership, and discipline. Hyde offers a lot of helpful and practical advice for being the kind of a Christ-like spiritual leader for one's family that we are called to be (Eph. 5:23). An overarching "theme" of most of his advice is an attitude of selflessness, which is—not surprisingly—the single most defining characteristic of the way that Christ cares for the Church. The temptation to put myself first after a hard day of work is extremely strong, even though I have no children to worry about, only my wife.  But as a husband, Scripture simply doesn't grant me the luxury of putting my needs and desires above those of my wife. At the present time, I need to nurture good habits and increase my focus on being intentional about doing away with distractions, and making sure that I am the kind of husband—and father, at some point—who is managing my family well: being the kind of leader, teacher, shepherd, encourager, and exemplar who steers us—as a family unit—toward a life centered on Christ.
Hyde concludes by pointing out that this kind of family leadership can't exist as a set of discrete planned events, but that these intentional elements must be part of an overall attitude of willingness—or perhaps I should say eagerness—to make Jesus a part of each and every aspect of our lives, no matter how mundane. As the leader of the family, a husband must take this responsibility very seriously; it is our charge to see that our family grows every day closer to Jesus Christ.