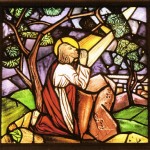 On Wednesday, I wrote briefly about prayer, and I feel that I should make it clear that I wasn't trying to belittle liturgical prayers in any way, only pointing out that prayer need not always be some grand affair.  Prayer should always come from the heart, but we can learn much from the prayers that have been handed down through generations from the early church. One such prayer—the Lord's Prayer—is perhaps the most widely used model for prayer because, although Scripture gives us many insights into various aspects of praying, this is perhaps the only example in which Jesus was specifically instructive about how we should pray. Some interpret Jesus' counsel regarding the manner in which we pray more literally than others: many believe that we should repeat his words verbatim, while others feel that they were simply provided as a guide. Regardless of your opinion on that matter, we can glean much from the Lord's Prayer in terms of both our attitude toward—and our understanding of—prayer. By examining Jesus' instructions with an open and investigative mind, I believe that we can discover how God Himself views our interaction with Him through prayer, and learn something about the things that He thinks are important.
This, then, is how you should pray: "Our Father in heaven, hallowed be Your name, Your kingdom come, Your will be done on earth as it is in heaven. Give us today our daily bread. Forgive us our debts, as we also have forgiven our debtors. And lead us not into temptation, but deliver us from evil, for Yours is the kingdom and the power and the glory forever. Amen." (Matthew 6:9-13, NIV)
Imperatives
The first three statements are not merely observations or requests, but imperatives. The Lord's name must be "hallowed," and we want His Kingdom to "come"—to exist here and now on this earth, not just at some point in the future—and for His will to "be done." Rather than passively praying, we should agree with God's will, and do everything in our power to make it happen here on earth. One of the most important things we can do as our part is to fervently and continually pray for the glorification of God, the expansion of His Kingdom here on earth, and that His will would become reality—and not only pray for it, but allow God to use us as part of His plan to bring these things to fruition.
Selflessness
All of the pronouns used in the prayer are plural (we, us, our) rather than singular (I, me, my). The language of the prayer espouses an altruistic attitude, rather than one that is strictly self-centered. Jesus taught us that the two most important commandments were to, "'Love the Lord your God with all your heart and with all your soul and with all your mind… and… 'Love your neighbor as yourself'" (Matthew 22:37-39, NIV). That second command always proves a great challenge to me, but a central part of the Christian life is exactly that attitude toward service to others, exhibiting the type of self-sacrificing love that Jesus not only demonstrated but perfectly embodied.
Our Needs and God's Provision
Jesus teaches us to ask the Father for several needs. The first is a physical need ("our daily bread"); it is one of the most basic requirements for survival, but also one of the ultimate necessities: the sustenance we require on a daily basis. In this way, every need we have in this world is neatly summed up by this one simple request. Physical needs could be provided by others, of course, but Jesus teaches us to rely on God for all things because our spiritual needs can only be met by Him. Jesus proved that he had God's authority to forgive sins by providing physical healing (Matthew 9:5-8). Forgiveness of sins (or "debts") is one the spiritual needs mentioned in the Lord's Prayer, along with deliverance from temptation and evil. When we recognize that God has provided for our physical needs, we have physical proof that we can trust God's provision in these spiritual areas, as well.
God is the Lord of All
Finally, Jesus ends by recognizing and declaring what we know: God is the Lord of all Creation. Okay, so call me Captain Obvious. But, when we're honest with ourselves, how often do we forget this? When we pray to our Heavenly Father, for His intervention in our world and His provision in our lives, we need to remember that, as the Almighty, He and He alone has the authority and power to provide these things. In lives that are often characterized by disappointment and frustration, it's easy to lose perspective and forget that God is truly omnipotent and omniscient, and that He loves us so much that He wants to be personally involved in our lives and the world in which we live.