Whenever I have the opportunity to give my testimony, I talk about how God was working in my life for months before I happened to attend a concert marking the last Maryland appearance of the band Five Iron Frenzy. A Christian ska band known for silly songs and crazy antics, FIF also wrote some of the greatest worship songs I've ever heard, and I still have their albums in frequent rotation to this day. I mark that night as the night that I truly accepted Jesus Christ as my Lord and Savior.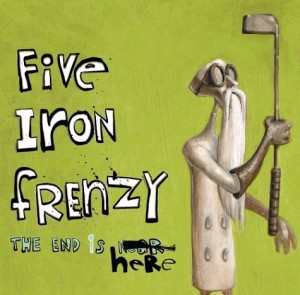 This particular concert took place on Sept. 20, 2003, a few months after the first time I had finally attended a Hope For The Rejected Bible study, after much encouragement and harassment from friends. I was learning about the character of God and learning about Jesus Christ in a way that I never had, even growing up in a family that went to church every Sunday. Five Iron Frenzy put on their usual high-energy show that night, but closed with a very serious time of worship. As I remember it, Reese, the band's lead singer, played the tune "I Love You Lord" acoustically. He has a truly striking voice, and hearing him lead hundreds (thousands?) of people, our hands and voices raised, through such an honest and emotional song had a profound impact on me. That night, after the concert, I went home and knelt by my bed, as I hadn't done since I was a kid, and fervently prayed an apology to God. "I'm sorry, Lord," I prayed, "for spitting in Your face and turning my back on You for so many years."  I thanked Jesus for never turning his back on me, and told him that night that my life now belonged to him.
I started thinking about that night again after giving my testimony to a group of high school kids this past weekend at MMYfC's Avalanche retreat, and wondering what made that concert so special. What was it that made that night so different from any other? What exactly was it about that worship experience that changed things, and finally allowed me to take a step in my relationship with Jesus from merely "knowing about him" to actually "knowing him"? After reflecting on things quite a bit, I've finally realized that I think what made that particular worship experience so special was that it marked the first time that I genuinely raised my voice and offered praise to God. It was the first time that I was honest with God, the first time I cried out and simply told Him that I finally realized how much I needed Him in my life. It was when that barrier was broken, when I tore down the veil I had created, when I was able to connect with God in a personal way, that I was able to allow Him to be what He had always wanted to be: my personal savior.
Since that day, God—with a lot of help from Starr along the way—has engendered and nurtured in me a love of praise and worship music (along with a host of other changes, of course). Although I still don't exactly love the style of much of the current worship music, I always look forward to and cherish the opportunity that these songs afford to lift my voice in praising God. I remember singing along in church one particular Sunday morning a couple of years ago, and suddenly receiving the revelation that my simple act of worship was bringing unbridled joy to the God of the universe, and to the Son who had given his life to save mine. What a profound and joyous realization that was…
I Love You, Lord
(Laurie Klein)
I love You, Lord,
and I lift my voice
to worship You.
Oh, my soul rejoice!
Take joy, my King,
in what You hear.
Let it be a sweet, sweet sound in Your ear.