Posted on February 2, 2011 at 8:00am
Dan Wolgemuth, President and CEO for Youth For Christ, contributed last Friday to one of my favorite blogs, The Resurgence. Drawing on his experience with YFC, Wolgemuth offers some great insight about working with young people (The First Obstacle in Working with Young People is YOU). He has concluded that our perspective greatly affects the success of the interaction, and he outlines two common approaches to youth ministry:
An obligation: On one hand we find youth workers that feel as though they "must" work with young people. They engage with teeth gritted and resolve mustered… but their "will to work" far exceeds their "want to work." They measure their success by how long they've been engaged with young people.

Just chillin': At the other end of the spectrum there are youth workers who are just looking to hang out, to be a part of something fresh and new, exciting, and entertaining. These workers measure their success by whether they are included and accepted.
I struggle with the latter: I love working with young people, but I also love being liked. The trick to that, for me, is to remember what I'm really there for, and that any inclusion or acceptance I have is a gift from God, and a platform from which I can minister to young people with Christ-centered encouragement, guidance and teaching.
Both of the perspectives detailed above are equally hopeless, and Wolgemuth emphasizes the importance of approaching ministry with the proper heart and motivation. Youth ministry, and ministry in general, should follow the example of Jesus Christ, and be done with a heart of compassion. One of the most important things that we can pray for, then, is that God would instill in us an understanding of "authentic love" — the compassion exhibited by God Himself.
Posted on January 7, 2011 at 12:32pm
Later today, Starr and I are headed to Gettysburg, Pennsylvania for Metro Maryland Youth For Christ's Avalanche retreat. This is a weekend of snowboarding, skiing, snow-tubing and other activities for high-school students, as well as a lot of opportunity for spiritual growth and small group discussions, held at the Eisenhower Hotel and Conference Center.  This will be our first time going to this particular event, and we're helping out as chaperones for youth who we don't know, but we're excited to be a part of it and let God use us.
This will also be the first time since Starr and I were married that we aren't able to sleep in the same room, since we'll both be responsible for three teens who will be in our respective rooms. This has raised the issue of how to divide time (and attention) between ministry and each other—and in the future, our children as well—and we have been thinking about and discussing that topic a lot this week. This is honestly more of a sacrifice for Starr, I think—not because I don't enjoy spending time with her just as much as she with I, but because as a man I'm different than her. Starr feels most loved when I express it by spending quality time with her, so I constantly have to make sure that I'm giving her what she needs in terms of that time and attention. I don't do this just to keep her from whining or nagging, but because it's my responsibility as her husband to love her in the way that she needs to be loved. So it's not that I require any less love from her than she requires from me; it's just that I need to be loved in a different way. Dr. Gary Chapman sheds much light on approaching marriage this way in his universally popular The Five Love Languages (and several subsequent books expanding on that idea). This is something that we talked about a lot before we were married, and something that has helped us learn to live with each other and be good spouses who meet each others' needs.
Starr has been reading the late Ruth Bell Graham's It's My Turn, a book of "life lessons from the wife of Billy Graham." Ruth's examples of being a strong wife and supporting her husband through his many years of being a world-renowned minister and traveling all over the globe to do God's work, have helped Starr quite a bit. Ruth was a partner in Billy's ministry and often traveled with him—and even had a productive ministry of her own—but a major part of being his "help-mate" meant that she took care of the home and their children so that Billy could focus on ministering to others. Ruth Bell Graham's example also calls Starr to ultimately trust my judgment about major decisions affecting our ministry, and our life together in general. I don't expect my wife to be silent, and indeed I appreciate her input involving those decisions, but ultimately she trusts me to make the right choice.
Posted on January 3, 2011 at 8:00am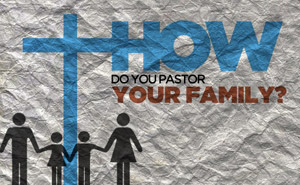 This weekend, The Resurgence posted a recap of their Top 6 posts of 2010, and I deemed one to be especially worth sharing: Justin Hyde's "How I Pastor My Family".  Hyde, lead pastor of Christ Church in Brenham, Texas, lists ten guidelines for being a pastor to his family, which he accurately describes as "the most important part of [his] vocation."
As I prepare to enter into a career in ministry, I've thought and prayed quite a bit for the discipline and wisdom to make sure that I follow the Biblical imperative to be able to "manage [my] own family well" (1 Tim. 3:4-5), which I interpret to include being a teacher and spiritual leader, as well as a source of support, leadership, and discipline. Hyde offers a lot of helpful and practical advice for being the kind of a Christ-like spiritual leader for one's family that we are called to be (Eph. 5:23). An overarching "theme" of most of his advice is an attitude of selflessness, which is—not surprisingly—the single most defining characteristic of the way that Christ cares for the Church. The temptation to put myself first after a hard day of work is extremely strong, even though I have no children to worry about, only my wife.  But as a husband, Scripture simply doesn't grant me the luxury of putting my needs and desires above those of my wife. At the present time, I need to nurture good habits and increase my focus on being intentional about doing away with distractions, and making sure that I am the kind of husband—and father, at some point—who is managing my family well: being the kind of leader, teacher, shepherd, encourager, and exemplar who steers us—as a family unit—toward a life centered on Christ.
Hyde concludes by pointing out that this kind of family leadership can't exist as a set of discrete planned events, but that these intentional elements must be part of an overall attitude of willingness—or perhaps I should say eagerness—to make Jesus a part of each and every aspect of our lives, no matter how mundane. As the leader of the family, a husband must take this responsibility very seriously; it is our charge to see that our family grows every day closer to Jesus Christ.