Posted on March 21, 2011 at 8:00am
This morning, Starr and I will set off for southern Maryland, to spend four nights at Woodlawn Farm, where we spent our honeymoon.  Woodlawn is a bed & breakfast on a 180-acre historical estate in Ridge (just a few miles from the southernmost point in Maryland on the Chesapeake Bay's western shore) with a mile of waterfront along Calvert Creek (and a fantastic view of Calvert Bay just beyond).
The estate house on the property was built ca. 1798, and was featured on a past episode of HGTV's If Walls Could Talk. The innkeeper, Jim Grube, is perfectly suited for his work: an outgoing, charismatic man who can hold a conversation about anything (and one heck of a chef, to boot). We chose to stay in a small cottage separate from the main house, mainly because it has a full kitchen and living area as well as a bedroom.  Staying in a suite like this allows us to stay in, relax and enjoy each others' company (not to mention eating meals in to save money).
Many—including my own parents and parents-in-law—say that my wife and I are "old souls," and we really can't argue. For one thing, we will always choose a quiet bed-and-breakfast over a bustling city or a beach resort. Both of us enjoy nature, museums, and historical architecture above most anything else.
To be sure, a large part of this can be attributed to our respective parents, for instilling in both of us a love of learning and a respect for the past. Because of this love, Woodlawn is a perfect place for us to stay, being located as it is very close to historic St. Mary's City, "the site of the fourth permanent settlement in British North America, Maryland's first capital, and the birthplace of religious toleration." A project is underway to rebuild the city's Brick Chapel of 1667, and we are excited to see what progress has been made since we were last there a year ago.
Last time around, Starr became... shall we say, "annoyed"... with me on several occasions, because I have a tendency to walk around with my camera glued to my face. While that gorgeous sunset to the left was taking place, for example, I was snapping away, trying to get the perfect shot of it, rather than just enjoying it with my wife. When I get like that, I don't talk much... or really pay attention to anything else at all. This year, I don't think this will be much of an issue; I've come to realize the importance of spending time with my wife and making sure that I'm not sucked into my own little world of photography. We're going to plan out the week a bit beforehand, and make sure that we strike a balance between sight-seeing and spending time focusing on reconnecting with each other. (Also, I bought Starr a camera a few months ago, so she'll surely have it glued to her own face, at least part of the time.)
From Woodlawn, we'll be heading directly to Metro Maryland Youth For Christ's Impact conference in Ocean City, Maryland, to spend the weekend volunteering and hanging out with thousands of high-schoolers. More on that next week (assuming I survive it)...
Posted on February 4, 2011 at 8:00am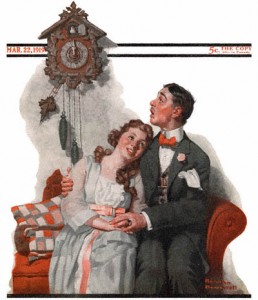 A couple of weeks ago, Starr and I were sitting in on a Bible study for high school students, on the topic of purity. At one point, the discussion turned toward dating, and almost all of the participants had personal anecdotes of family members (and, for the adult couple leading the study, themselves) who had known each other only a short time before being married. This raised the question: Why, with much shorter dating or courtship periods, did so many more marriages in years past result in longer-lasting unions than marriages today. This is curious, because this doesn't really make sense, according to today's conventional wisdom, which says that one of the secrets to a lasting marriage is making sure that you're compatible with your partner (by living together for a while before marriage, for example).
About two-thirds of American couples today live together before they are married, and about 60% of Americans believe that cohabitation is the best way to establish a successful marriage. The late Dr. Charles E. Cook of Mountain Christian Church, who passed away just a few weeks ago, put together a great primer on the topic of cohabitation before marriage, which the church provides as a free resource on their web site (download the PDF here). In this pamphlet, Dr. Cook reveals a lot of surprising data, including the fact that, according to one study, cohabitation before marriage increases the risk for divorce by a staggering 46%. This flies in the face of the popular notion that living together somehow benefits a marriage. Cook matter-of-factly states, "The blunt reality is that no positive contribution of cohabitation to marriage has ever been found by any research." He then goes on to speculate why this may be true; one suggestion is that, while marriage is based on a strong ethic of commitment, cohabitation relies on something else entirely. The difference, he surmises, is between two types of relationships: contractual and covenantal. In the former, Cook explains, "the individuals are ordinarily focused on their own personal autonomy – their personal interests, desires, and concerns." Marriage represents the latter, though, and is focused on the best interests of the other person. Certainly, this fundamental difference in our attitudes toward marriage must have something to do with how well the relationship endures time and trials.
Continue reading...
Posted on January 7, 2011 at 12:32pm
Later today, Starr and I are headed to Gettysburg, Pennsylvania for Metro Maryland Youth For Christ's Avalanche retreat. This is a weekend of snowboarding, skiing, snow-tubing and other activities for high-school students, as well as a lot of opportunity for spiritual growth and small group discussions, held at the Eisenhower Hotel and Conference Center.  This will be our first time going to this particular event, and we're helping out as chaperones for youth who we don't know, but we're excited to be a part of it and let God use us.
This will also be the first time since Starr and I were married that we aren't able to sleep in the same room, since we'll both be responsible for three teens who will be in our respective rooms. This has raised the issue of how to divide time (and attention) between ministry and each other—and in the future, our children as well—and we have been thinking about and discussing that topic a lot this week. This is honestly more of a sacrifice for Starr, I think—not because I don't enjoy spending time with her just as much as she with I, but because as a man I'm different than her. Starr feels most loved when I express it by spending quality time with her, so I constantly have to make sure that I'm giving her what she needs in terms of that time and attention. I don't do this just to keep her from whining or nagging, but because it's my responsibility as her husband to love her in the way that she needs to be loved. So it's not that I require any less love from her than she requires from me; it's just that I need to be loved in a different way. Dr. Gary Chapman sheds much light on approaching marriage this way in his universally popular The Five Love Languages (and several subsequent books expanding on that idea). This is something that we talked about a lot before we were married, and something that has helped us learn to live with each other and be good spouses who meet each others' needs.
Starr has been reading the late Ruth Bell Graham's It's My Turn, a book of "life lessons from the wife of Billy Graham." Ruth's examples of being a strong wife and supporting her husband through his many years of being a world-renowned minister and traveling all over the globe to do God's work, have helped Starr quite a bit. Ruth was a partner in Billy's ministry and often traveled with him—and even had a productive ministry of her own—but a major part of being his "help-mate" meant that she took care of the home and their children so that Billy could focus on ministering to others. Ruth Bell Graham's example also calls Starr to ultimately trust my judgment about major decisions affecting our ministry, and our life together in general. I don't expect my wife to be silent, and indeed I appreciate her input involving those decisions, but ultimately she trusts me to make the right choice.
Posted on January 3, 2011 at 8:00am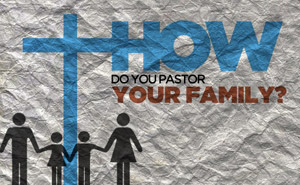 This weekend, The Resurgence posted a recap of their Top 6 posts of 2010, and I deemed one to be especially worth sharing: Justin Hyde's "How I Pastor My Family".  Hyde, lead pastor of Christ Church in Brenham, Texas, lists ten guidelines for being a pastor to his family, which he accurately describes as "the most important part of [his] vocation."
As I prepare to enter into a career in ministry, I've thought and prayed quite a bit for the discipline and wisdom to make sure that I follow the Biblical imperative to be able to "manage [my] own family well" (1 Tim. 3:4-5), which I interpret to include being a teacher and spiritual leader, as well as a source of support, leadership, and discipline. Hyde offers a lot of helpful and practical advice for being the kind of a Christ-like spiritual leader for one's family that we are called to be (Eph. 5:23). An overarching "theme" of most of his advice is an attitude of selflessness, which is—not surprisingly—the single most defining characteristic of the way that Christ cares for the Church. The temptation to put myself first after a hard day of work is extremely strong, even though I have no children to worry about, only my wife.  But as a husband, Scripture simply doesn't grant me the luxury of putting my needs and desires above those of my wife. At the present time, I need to nurture good habits and increase my focus on being intentional about doing away with distractions, and making sure that I am the kind of husband—and father, at some point—who is managing my family well: being the kind of leader, teacher, shepherd, encourager, and exemplar who steers us—as a family unit—toward a life centered on Christ.
Hyde concludes by pointing out that this kind of family leadership can't exist as a set of discrete planned events, but that these intentional elements must be part of an overall attitude of willingness—or perhaps I should say eagerness—to make Jesus a part of each and every aspect of our lives, no matter how mundane. As the leader of the family, a husband must take this responsibility very seriously; it is our charge to see that our family grows every day closer to Jesus Christ.